Contract of War, the final novel in Tamy Salyer's Spectras Arise Trilogy is out today!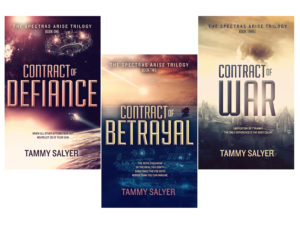 If you haven't read any Tammy Salyer, you owe it to yourself to pick up boon one and give it a rip. Tammy is a top notch military science fiction writer who likes to keep her characters flawed and realistic. (Something I like to do in my work as well.) It won't take but a few paragraphs for those of you who love my stuff to fall right in love with Tammy's as well.
Here's her official announcement:
Contract of Defiance, Contract of Betrayal, and Contract of War follow heroine Aly Erikson and her crew of anti-Admin smugglers through an ever-escalating glut of life-and-death adventures and trials of a living on the side of liberty and freedom—whether they agree with the law or not—in the far future of the Algol star system. As former Corps members, most are no strangers to fighting and dissent, but more than anything, they want to spend their lives flying under the radar without control or interference from the system's central government, The Political and Capital Administration of the Advanced Worlds. But the Admin's greed-drenched dualism of power and corruption has other plans, and throughout the series, Aly and her crew are reminded of one lesson time and again: when all other options run out, never let go of your gun.

Contract of War begins in the aftermath of the system-wide war between the Admin and Corp Loyalists and the non-citizen population of the Algols, where everything once resembling order has been leveled. Scattered enclaves of survivors dot the worlds, living, however they can, in snarled lawlessness. Aly and her crew have carved out a niche of relative peace, doing their best to go on with their lives through salvaging, scavenging, and stealing. But with no force left to keep the lid on the pot, the pressures of chaos and discord soon cause conflicts to boil over. As enemies close in from all directions, even, sometimes, from within, the crew once again must fight—not just for survival, not just for their way of life, but this time for a future that can finally lay to rest the system's bloody and savage past. 
To learn more about the ex 82nd airborne veteran and alternate reality engineer, head on over to www.tammysalyer.com
Related articles