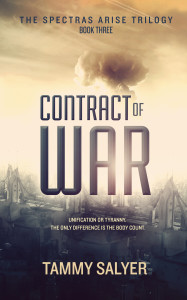 So a few weeks ago a friend Tammy Salyer was working on a tagline for the third book in her Spectras Arise series, Contract of War. She had a whole bunch of options listed on her website, and she invited her fans to give her feedback.
I ended up writing her an email with an opinion that she promptly disregarded and went a different direction, which kept her tagline lighter and more snarky than mine. However, she thought that what I had to say was a really great way to suss out how to write a book tagline, and she encouraged me to post it here for the benefit of other writers. Here then is my email:
Tammy,

Here are my two cents on your tagline:

The best starting phrase on your site is "When the fight is over." It tells me so much about character, plot, and setting of the book.

I think the best character in all of these taglines is Tyranny.

Tyranny is an evil actor. Tyranny coming to get the good guys makes me want to read the book. Tyranny has to be stopped. All of which means we have a plot that I need to read. How do we stop tyranny?

So if you put the two together like this–When the fight is over, Tyranny…– then you have a setting, a character, and a plot. So far so good.

In the tag line Tyranny has to do something… In all your choices, I like the word "feasts" the best. It's the most visceral and active.

So you end up with "When the fight is over, Tyranny feasts…"

So the next question is what does it feast upon, and that I can't answer. I don't have enough information and you seem to be struggling to identify what it feasts on in your description.

To help you answer that for yourself here is my question: Who is the crew primarily fighting to save, themselves or others? If its for themselves, then tyranny should feast on the crew. If they are fighting for other things like the peace of the system, then you should aim toward that. If it is the latter, here is a thought. What about adding another character like, "the innocent," or "the people?"

Tyranny could feast on them and you would have a fantastic tagline.

Feel free to throw it all out. These can be really frustrating.

Erik
I have to say, I can't really claim it's all my idea. It was Jason Gurley who was encouraged me to make sure I had a narrative arc to my blurb for The Far Bank of the Rubicon, so some of the credit has to go to him. Anyway, I hope you find it helpful.
Oh, and by the way, if you haven't read Tammy's Spectras Arise series you owe it to yourself to read book one Contract of Defiance. Tammy has a writing style similar to my own, and her work is top notch science fiction.
Related articles