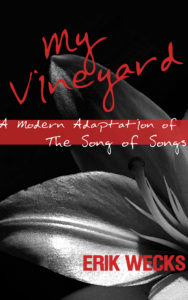 A Modern Adaptation of
The Song of Songs
First Published in The United States of America
Copyright © 2014
Erik R. Wecks
All Rights Reserved
No part of this publication may be reproduced, stored in a retrieval system, or transmitted in any form or by any means without the prior permission in writing of the publisher, nor be circulated in writing of any publisher, nor be otherwise circulated in any form of binding or cover other than that in which it is published without a similar condition including this condition, being imposed on the subsequent purchaser.
For Harry
---
Picture, if you will, a California farm worker in her early twenties. She's a second generation American, born to a single mother. When she isn't working, she attends classes at the local community college, trying to finish her GED.

Kiss me! No, really kiss me!
Make me drunk on your kisses!
Sex with you is better than wine.
I love the smell of your body.
It's like a scent wafting on the air, driving the single girls crazy.
They all want you.
Take me by the hand, and lead me on.
Let's run together.
My leading man has brought me to his bed.
Tonight we'll focus on you, my lover.
We'll make noise together.
We're going to declare just how much our sex is better than wine.
You're so hot!
They're so right to want you.
Girls, you may think that I'm too brown, but I'm still gorgeous.
I'm like a little black dress on date night.
I'm like a flowing black gown standing next to a leading man on the red carpet.
Don't talk about me behind my back.
Unlike you, I work hard. Outside.
My brothers were pissed at me, so they sent me out to guard and tend their vineyard.
I haven't guarded or tended my own.
Tell me, my one true love, what pasture will you work tomorrow?
Where will you be in the heat of the day?
Tell me.
If I wander aimlessly, the other guys might get the wrong idea.

If you can't find me, loveliest of women, just follow the dust of the plows.
And take your break with the farm hands.
You will be like my own mare standing among a bunch of stallions.
Ah, the curve of your cheeks and the loops in your ears,
The beads at your throat.
I'm going to have to make my own set of earrings for you,
Something in gold, inlaid with silver

My leading man lay with me, and my own scent enveloped us like a fine perfume.
My lover is like a sachet of perfume who spends the night between my breasts.
He's as wonderful as a cluster of orange blossoms from orchards in an oasis by the sea.

You, my lover, are so beautiful.
Your eyes are like doves.


You are so handsome, my love. Truly lovely.
Wherever we lie together, a field of green grass is our bed.
The cedar branches are the beams of our home, and the rafters are sequoias.
I am a rose, a lily.
I am God's fertility itself.


Compared to the other girls, my lover is like a rose among weeds.

Compared to other men, my man is like an apricot tree in the forest.
Often have I delighted in his fruit, lingering to enjoy its sweetness.
He brought me to his feast of wine and raised over me his banner of love.
Bury me under your apricots and raisins.
I'm so turned on, I feel faint.
His left hand rests under my head,
And his right hand envelops me.
Young women,
Swear to me by the gazelles and the does in the fields,
You will not arouse lust until the time is right.
My lover's voice! He's coming this way!
I would swear that where he walks he leaps over mountains and bounds over hills.
My lover is like a gazelle or a stag.
And there he is on the other side of our fence, looking through the stones.
He calls to me and says:


"Come away with me, my lovely friend.
Look around.
The winter is past, and the rains are over.
Wildflowers blossom in the fields.
The birds are singing, and the doves can be heard in our meadows.
The fig tree sweetens its fruit, and the grape vines infuse their blossoms with scents.
My dove, hiding in the rocks and the shadows.
Come out!
Let me look at your whole body.
Let me hear your voice.
For your voice is a delicacy,
And the sight of you lovely.

Catch for us the foxes, the little foxes that raid the vineyards when they bloom.

My lover is mine, and I am his.
He grazes among the lilies.
Before the day breathes and the shadows flee,
Run away, my love.
Be like a gazelle or a wild stag on the ragged mountains.
Night after night, I lay in my bed, longing for my lover.
I looked for him, but he did not come.
I said to myself, "I must get up now and roam the streets,
Searching in the back alleys and boulevards,
Until I find my one true love."
I searched for him everywhere, but I could not find him.
The police stopped me as they patrolled the city,
So I asked them,
"Have you seen the one my soul loves?"
Just seconds after they let me go, I found my true love.
I held him and wouldn't let go of him,
Until I had brought him to my mother's house,
Into my mother's room.
Young women,
Swear to me by the gazelles and the does in the fields,
You will not arouse love until it so desires.


Who is this who comes from the desert like a column of smoke,
More fragrant than a perfume shop?
Look, there's Hollywood's biggest star!
All the leading men surround him.
Each of them strong and handsome.
Each of them manly.
He got himself a custom built limousine just for the occasion.
A limo made of silver and inlaid gold, with plush seats.
Its interior is upholstered with the desire of all the young women.
Ladies, come out and look at a star on the day of his wedding.
Look at the fine clothes his mother got him on the day of his joy.

You are so beautiful, my lover, so beautiful!
Your eyes—doves looking out from behind your tresses.
Your hair falls down like chocolate from a fountain.
Your smile, more enticing than the Mona Lisa.
Your lips, blood red—how I long to hear your voice!
Your round cheeks—black cherries dipped in the chocolate of your hair.
Your neck is like a fine crystal vase surrounded by a thousand blossoms—all of them roses.
Your two breasts are fawns, twin daughters of a deer, grazing in a field of wildflowers.
Before the day breathes,
Before the shadows of night flee,
I will run down to the mountain of spices,
The perfumed hill.
You are altogether lovely, my sweet.
Please come down to me!
I beg you, come down from the north!
Look down at me from the high mountains where the goddesses dwell!
Look down at me from the wild places.
You've become my family!
My sister, my bride!
You've stolen my heart,
With just a flash of your eyes and a single pearl hung at the nape of your neck.
Oh, how wondrous your lovemaking, my sister, my bride!
Your sex is so much better than wine,
And the smell of your spices better than any perfume.
Your lips taste like honey, and sweet milk is hidden under your tongue.
Your clothes smell like a fresh wind in the forest.
My sister, my bride is my secret garden, hidden behind a wall,
My own secret spring, a hidden well.
Your limbs shelter a paradise of red cherries mixed with rare spices.
Fragrant nutmeg,
Dripping vanilla,
Exotic saffron,
Trees of spicy cinnamon,
And every other lovely scent.
You are a garden fountain,
A spring of pure, life-giving water
Flowing down from the mountains of the north.


Arise, north wind! Come, south wind!
Breathe on my garden.
Let its spices flow out!
Come into your garden, my love.
Enter and taste its luscious fruit.


I have entered into my garden,
My sister, my bride.
I gathered my vanilla and my cinnamon.
I ate my honeycomb and drank my wine and milk.
Friends, gorge yourselves.
Drink deep until you are drunk with love.


I slept, but my heart stayed awake.
Listen!
The sound of my lover knocking!

"Open to me, my sister, my lover, my dove, my pure one.
My head is dripping, soaked with dew."


"But I'm already tucked in bed, undressed and showered!
Should I dress again and get myself sweaty?"
My lover tried to force the lock,
And my body responded with desire.
I got up to open the door for my lover,
And my hands dripped with perfume.
My fingers left spices on the handle of the bolt.
I opened for my lover, but he had disappeared.
I nearly died when he had spoken.
I searched for him, but I didn't find him.
I called for him, but he did not answer.
The police found me as I walked the streets.
They battered me and bruised me.
They tore my dress off my shoulders.
Swear to me, young women,
If you find my lover, what will you tell him?
You will tell him nothing other than I am burning with desire!

Why is your lover better than any other man,
Loveliest of women?
What does he have that others do not?
Why should we promise you anything?


My lover is bronzed and fit,
Standing out among ten thousand other men.
His face shines like gold.
His wavy hair is as dark as a raven.
His eyes are like doves sitting beside pools of water,
Set like sparkling jewels floating in the whitest milk.
His cheeks smell of cinnamon and spices.
His lips are like flowers dripping with nectar.
His arms, strong and gentle, like velvet and steel.
His abs, as hard as diamonds.
His legs, immovable columns of marble, set on foundations of pure gold.
He's as impressive as a redwood.
His mouth is utterly sweet.
He is altogether desirable.
Young women, this is my lover and my friend!

And where has he gone, loveliest of women?
Where has your lover fled, so that we many seek him with you?


My lover has gone down to his garden, to his beds of spices,
To nibble in the gardens and gather his lilies.
I am my lover's, and my lover is mine.
He grazes among the lilies.


You are gorgeous, my darling,
As chic as the New York skyline,
As lovely as Paris in the spring,
As breathtaking as the Milky Way stretched across the sky from north to south.
Turn your eyes away from me!
They overpower me!
Your hair falls down like chocolate from a fountain.
Your smile, more enticing than the Mona Lisa.
Your round cheeks—black cherries dipped in the chocolate of your hair.
 In Hollywood, there might be a hundred stunning women on the A-list
And a thousand or more on the B-list.
In this world, there are beautiful young women beyond count.
Above them all stands my perfect dove, my only love,
Her mother's favorite, the light in her mother's eyes.
The young women see her and tell their friends about her beauty.
Even celebrities sing her praise:


"Who is this who rises like the morning star,
As fair as the full moon and bright as the sun,
As awe inspiring as the Milky Way?"


I went down to the grove of walnut trees
To look at the young green of the valley,
To see if the vines had budded,
To see if the cherries had come into blossom.
And before I knew it,
My desire overcame me.
She put me in the back seat of a car
And raised me up to the top of her celebrity list.

Princess, your sandaled feet are so beautiful.
Your thighs are golden, the work of an artist.
Your navel is round perfection, like a goblet filled with Krystal.
Your hips are soft and luscious, like strawberries dipped in cream.
Your breasts—the twin fawns of a deer.
Your neck, like a ming vase.
Your eyes inspired the fountain at the Bellagio.
Your proud nose, still perfect, just the way God made it.
Your perfect face, as awe-inspiring as any mountain vista.
Your hair, fit for a royal.
A king could get lost there.
How beautiful you are, my lover.
You are so much better than all other desires.

That day I first saw you, you reminded me of a palm tree,
Your breasts like clusters of fruit at the top.
 I said in my heart,
Someday I'm going to climb that tree and hold its fruit.
May your breasts always be luscious like grapes hanging on a vine,
And may the scent of your mouth be like apricots,
Your kisses like fine wine…


…The taste of fine wine flowing straight to your muttering, sleepy lips.
I am my lover's, and every ounce of his desire is for me.
Come, my lover, let us go out in the fields
And lie all night among the flowering lavender.
We can go early to the vineyards
To see if the vines have budded, if they have blossomed,
And if the cherries are in bloom—
There I will give you all my love.
The smells of earth and fertility fill the air,
And at our doorstep,
I have hidden for you fruits, both new and old.
If only you were my brother,
A man who had nursed at my mother's breasts.
Then I could kiss you openly in the streets,
And no one would despise me.
Then I could take you to my mother's home,
And she would teach me.
I would give you my own spiced wine to drink,
My own cherry liqueur.
His left hand rests under my head,
And his right hand envelops me.
Young women,
Swear to me by the gazelles and the does in the fields,
You will not arouse lust until the time is right.


Who is that coming in from the desert,
Leaning her head on her lover's shoulder?

In the very place where your mother conceived you,
There beneath the apricot tree,
The place where you were born,
There I aroused you.
Bind me as a seal on your heart,
Wear me as a band upon your arm.
For love is as fierce as death.
Jealousy, as bitter as the grave.
Even its embers rage like fire,
An all consuming inferno.
Great seas cannot quench love,
And no river can overwhelm it.
If a man gave all that he owned to buy love,
He would be despised.


We have a little sister,
Whose breasts have not yet come in.
What will we do for her when suitors come to call?
If she has been a wall, we will protect her.
If she has been a door, we will brace her shut with planks of cedar.


I am a wall.
And my breasts are guarded towers.
But for my lover,
I have become for him a place of rest and peace.
In Napa, a rich actor owned vineyards so vast
He hired managers and paid them a princely sum to tend his fruit.
But my small vineyard is my own to give as I please.
Keep your money, rich man.
You can give my worthless guardians the pittance they deserve.


Flower child,
Your friends listen to your voice in the garden.
Let me hear it now.


Come away with me, my lover!
Be my gazelle, my wild stag on the spicy mountains.
---
Afterward
How the Song of Songs ended up in the Bible, I cannot fathom. (As a person of faith, I am inclined to see it as no minor miracle.) On its surface, the book seems to turn so much of the rest of the Bible on its head. To start, it is the only book that takes a frank and extended look at human sexuality. Other books may moralize or advise regarding sex along the path to some other higher purpose, but only Song of Songs makes sex a central matter of study.
Then there is the protagonist—a young woman, probably poor, who works in the fields by day and beds her lover by night. As far as I recall, she is the only woman in the Bible to speak to the reader in first person. She is certainly the only to do so for an extended period of time. So what does this small oasis in a desert of patriarchy have to say for herself? Does she moralize about the duties of a proper woman? Does she opine on the appropriate modesties of a young virgin?
On the contrary, in explicit detail, she extols the virtues of erotic love. She powerfully makes her case for a sexual relationship of equals—a relationship in which she chooses her own lover, no matter what it costs her. In her passionate pursuit of her true love, she breaks all the rules.
The text leaves little doubt that she and her lover have not had a wedding. Consider the following:
— She and her lover almost always make love outside in the fields. Anyone who has studied medieval or ancient history will recognize the implications of this fact. With prying eyes in the village and limited indoor space, "illicit" lovers met in the woods. Married people had sex in their home.
— Her lover leaves her before dawn.
— They do not live in the same house. The young man comes down to call out his lover from behind the wall of her mother's home, encouraging her to run away with him to the fields.
— Twice our young protagonist searches the streets at night to find her lover. On both occasions, she is hassled by the city guards. Once she is seriously beaten by them. Clearly, wandering around at night isn't either safe or appropriate for a young woman. It seems only a small leap to imagine that the guards see her as a prostitute.
— The last sections make clear that her brothers still think her an unmarried virgin, when the text makes explicitly clear she is anything but a virgin.
— Most importantly, in the final section, our protagonist laments that while she can kiss her brothers openly in the streets, she cannot kiss her lover without fear of criticism. It takes a large leap of the imagination to create a society which would allow public affection between brother and sister but deny it to husband and wife. It certainly doesn't seem to fit the rest of the Bible, which makes no such prohibitions, and in fact, is full of examples to the contrary.
Taken together, the only sensible conclusion to draw is that the young lovers in the text are not married, at least in the eyes of society. They certainly haven't had a public wedding.
When one considers the emphasis on fidelity and marriage in the rest of the Bible, it is such a shocking conclusion I have little wonder that for the last couple of thousand years the majority of religious scholars missed the plain sense of the text. Which brings us back to the question, how did Song of Songs end up in the Bible in the first place?
There are a couple of interesting contrasts which might help unlock the puzzle. First, while the lovers may not have had a wedding, they are urgent in their passion to be faithful to each other. This is no fling in the woods to be left behind with the dawn. On the contrary, both lovers continually affirm their singular devotion to the other. Such faithfulness is one of the major erotic themes of the book, and both lovers take comfort in the safety such devotion provides.
This devotion is made clear by the young man when he repeatedly calls the protagonist, "My sister, my bride." In this one epithet, the young man declares that while society may not recognize their relationship as a legitimate marriage, they both know exactly how they view each other—in their own eyes, they are a family, and they are married.
In this way, the main antagonist of the story become the society around the young lovers which has not provided a path for their faithful passion to be legitimized. It is the gossiping young women who criticize the protagonist and lust after Solomon, it is her brothers who try to control who this young girl will marry, and, by extension, society at large who have become the enemies of these lovers.
In this way, Song of Songs participates in a wide variety of biblical literature which argues that individuals and society in general have corrupted that which God made. God made sex and erotic love; society has complicated it and corrupted it.
That corruption of erotic love is best highlighted by the inclusion of Solomon in the Song of Songs. In the Bible, Solomon is best known for three things. First, he is known for his wisdom. Next, he is known for his wealth, and finally, like his father, he is known for letting his lust for women cause him to be led away from God. He is said to have collected seven hundred wives and three hundred concubines. With this as background, the inclusion of Solomon in the book automatically provides an instant contrast to the faithful lovers devoted wholly to each other.
That contrast seems further heightened in the last section of the book in which Solomon is said to have owned a large vineyard, which he gave over to managers for a fee. Throughout the book, the protagonist refers to her own sexuality as a vineyard. In contrast you have Solomon who has a vast vineyard, so vast he must pay managers to tend it. On the other hand, you have the protagonist's vineyard which she calls "my own," and which she manages herself, although management is supposed to be given to her brothers. In this way, she contrasts her own small world of passionate, erotic intimacy with a single lover to Solomon's distant harem, so vast he needs to hire others to tend it for him. I think it might be this implicit criticism of Solomon's sexual practices which originally put the book in the canon of scripture.
Perhaps the Song of Songs is better understood as something akin to the books of the prophets, rather than the books of wisdom where it is traditionally placed. In this way, the protagonist's passionate pursuit of her lover with all her heart, all her soul, and all her strength, despite violating the rules of propriety, sounds very like a God who rails against his own sacrificial system, saying that he wishes his people would quit making sacrifices and instead "learn justice, correct oppression, bring justice to the orphan, and plead for the widow." (Isaiah 1:17)
Song of Songs has a way of getting to the heart of the matter when it comes to erotic love. It provides an uncommon picture of what it is like to find a place in which equality, sexuality, intimacy, fidelity, and safety all flow together in a relationship between two people. In that way, the  lovers exemplify the ideals expressed in the biblical concept of fidelity and passionate love better than the those who follow the traditional rules of society which surrounds them.
Notes on the Adaptation
Originally, I set out to create a paraphrase of Song of Songs. I ended up creating an adaptation.
First, I am in no means a translator of ancient Hebrew. I worked using the English Standard Version and the New International Version. The New Living Translation was most helpful (and explicit), and I received benefit from the Orthodox Jewish Bible. I also depended heavily upon Ariel and Chana Bloch's translation and commentary, The Song of Songs, A New Translation, (University of California Press, 1995). I also found the online Hebrew interlinear bible at scripture4all useful. (http://www.scripture4all.org/OnlineInterlinear/Hebrew_Index.htm)
From the moment I started, it became clear that the plain sexuality of Song of Songs would be, I think, somewhat lost on the modern reader because we cannot relate to comparing a lover's neck to a tower or his or her teeth to sheep. It just seemed necessary to give the reader a better opportunity to hear the passion with which these young lovers appraise and praise their partner's bodies and declare their fidelity to each other. That required lifting the book from its time and place and putting it in the now.
A paraphrase would no longer suffice. So while I tried to follow the form of the text, I have changed many metaphors. I tried to add as little as possible. In on instance, it seemed important to emphasize why the young man called his lover his sister. I will say that in places where the text isn't as clear, I felt freer to add my own interpretation.
Placing the text in the now demanded that I replace Solomon, who no longer would make sense in a narrative set in modern times. In two instances, Hollywood sufficed, because it is Solomon's status as the "leading man" of ancient Israel which leads to his inclusion in the text.