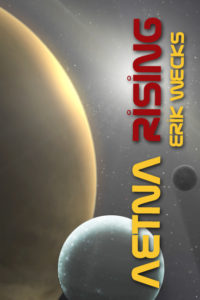 My first novel, Aetna Rising has been published. I am really looking forward to writing the second half of the story this winter.
Aetna Rising comes out of the frustration that I have felt with the cultural thinking about guys in our society. It seems to be assumed that all guys value sexuality over relationship and commitment. As a Dad who highly values his marriage and children, I am tired of this point of view, but I know that there are guys out there who think this way. I wanted to write a story about a guy figuring it out—a guy who at the beginning of the book believes that the only sensible choice is to follow his sex drive wherever it leads. He comes to understand that he needs and wants intimacy and friendship more than he wants independence and sex.
Here is the description from Amazon: Jack Halloway is a playboy, space station manager, and small time smuggler comfortable in the knowledge that he is in control of his little domain. Self-assured, Jack knows that he can handle anything that comes his way. He doesn't find out he is less cunning than he believes until a newly appointed administrative vice president and his team turn his quiet home upside down. For reasons unknown, Jack's backwater moon Aetna has become important to the central administration of the Unity Corporation. Jack must now figure out how to get on his new bosses' good side before they find out about his past and use it against him. Will Jack be able to keep his independence, or will he become a pawn in a deadly and brutal world of politics far beyond his powers of control?
Aetna Rising is part one of the two-part Pax Imperium story, A Snowball's Chance in Hell, from best selling author Erik Wecks. The Pax Imperium is a rich and diverse human galactic civilization. Old Earth is still around but only a minor player in matters which have long since left it behind. Created at the end of the last galactic war, the Pax was designed to be an empire which no single kingdom, country, or corporation could dominate. Aetna Rising tells the story of an everyday citizen living in one of the major players in the Pax, Unity Corporation. Unity is both a corporation and a government with its own citizens. It was on the losing side of the last war which ended 300 years prior and defeat has left a sour taste. Unity longs for a chance to kick free of the Pax, and, once again, expand its reach.